Some colors simply make your home more welcoming than others. They just invite you in and can make us feel at home in the most foreign of spaces. Color experts have long advocated the benefits the right color can have on our emotions, productivity, and our ability to connect with one another. 
To understand which colors are going to be seen as most welcoming for 2024, you need to delve into upcoming color trends. We're starting to see shades emerge like sunshine yellow and burgundy, but how do they fit into how movements like minimaluxe are evolving? Unsurprisingly, when it comes to entertaining spaces,  it's warmer tones you're after, though new ways of working with cooler tones can help create a soothing and serene welcome.   
What are the most welcoming colors for 2024?
When choosing the right paint color or wallpaper, it can be overwhelming to distinguish the inviting from the excluding. To help decode what will be next year's most welcoming hues we've asked interior designers and color experts for their favorites and how to create a truly inviting interior.
1. Pink with red undertones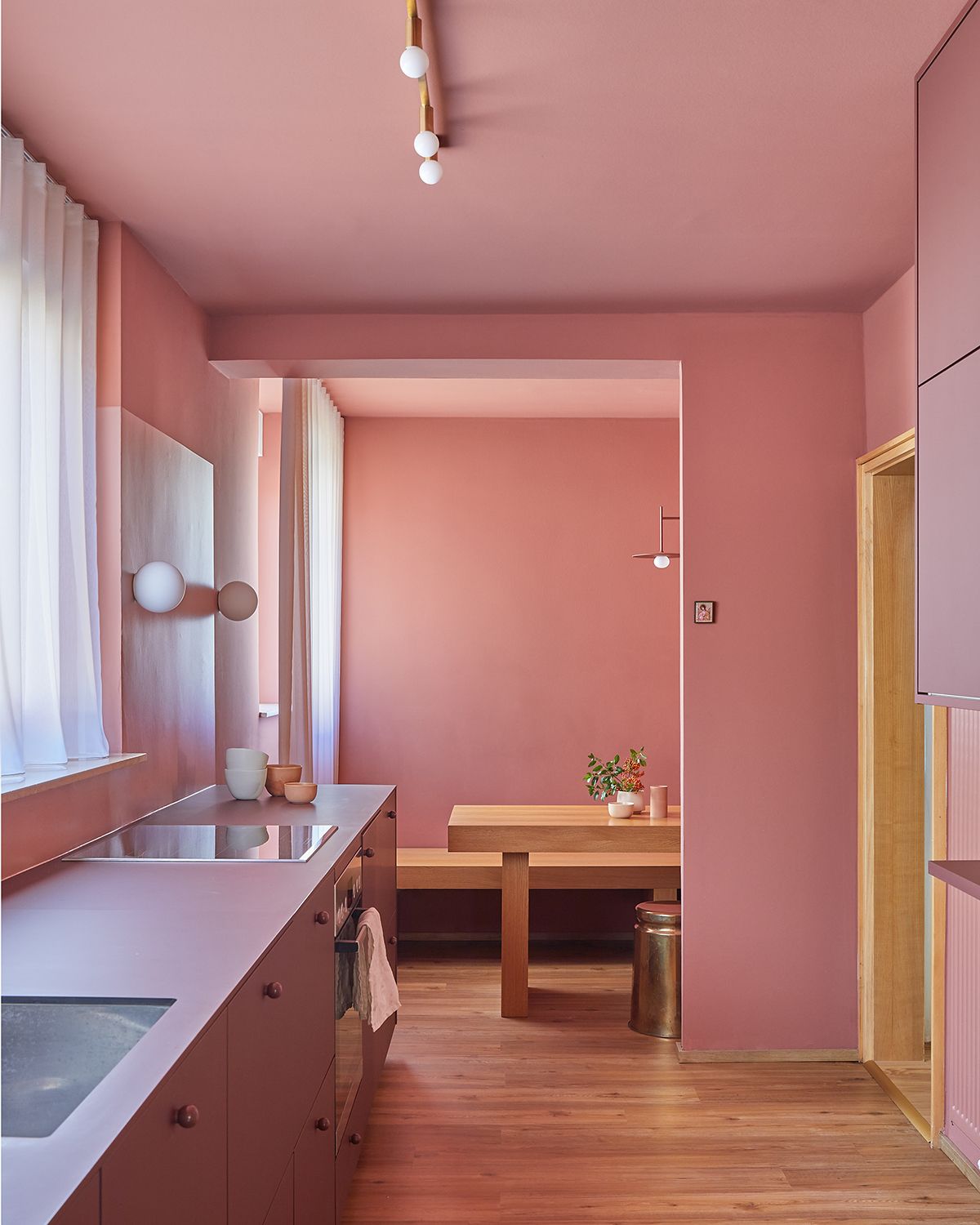 (Image credit: Renée Kemps Design: Constanze Ladner)
This is not a shy welcome. Bold and inviting,  can seem like a daunting design choice at first but in practice, it works to energize and enliven spaces. As seen by German designer,Constanze Ladner's Haus LFS project. Her use of Farrow & Ball's Book Room Red paint offers us a dialogue with the room itself, one that is both minimal and beautiful. 
"I am a big fan of painting the whole room, including the ceiling, in just one color. It gives me the feeling of a warm embrace and I also coordinate the colors of the furniture to match it. Farrow & Ball's Book Room Red is a very warm and earthy red. I love how the color changes with the sunlight – from a warm pink to a dark brownish red," says Constanze Ladner says.
Constance herself advocates for modern ways to decorate with pink and an expressive approach when it comes to choosing your welcoming color. She believes in emphasizing the balance between a reflection of your personal taste and a hue that works with the characteristics of the room.
"I recommend choosing wall colors that give you a warm, safe, stimulating, empowering feeling – depending on the use of the space," she says. "Colors you like to surround yourself with, colors you like to wear, colors that remind you of beautiful memories."