Get the Homes & Gardens Newsletter
Thank you for signing up to Homes & Gardens. You will receive a verification email shortly.
There was a problem. Please refresh the page and try again.
By submitting your information you agree to the Terms & Conditions and Privacy Policy and are aged 16 or over.
A high-end home with Barbie-pink walls? Seriously? Well, actually, as you can see from the photos, this is a home that doesn't take itself too seriously. It's a bright, fun and entertaining place to be. But it's all grown-up here, not child's play, and there's much more to this house than straightforward Barbiecore. 
For a start, its interior design is thoughtful and inspiring. One of the first things that struck us as we toured this home (after the pink, admittedly), was how the thread of color weaves through all the main reception rooms – sometimes pink, sometimes deep or bright blue, with occasional glimpses of vibrant teal and green. 
Fans of bold colors will love this home, fans of pink will love it still more. And for anyone wishing to embrace a Barbie pink scheme of their own, San Francisco-based interior designer Kendall Wilkinson has some good advice. Wilkinson, who designed all the interiors for this Silicon Valley ranch-style home, says it is important to 'elevate the room and and make sure that it is designed with taste and luxurious fabrics'. She shares her design insights below.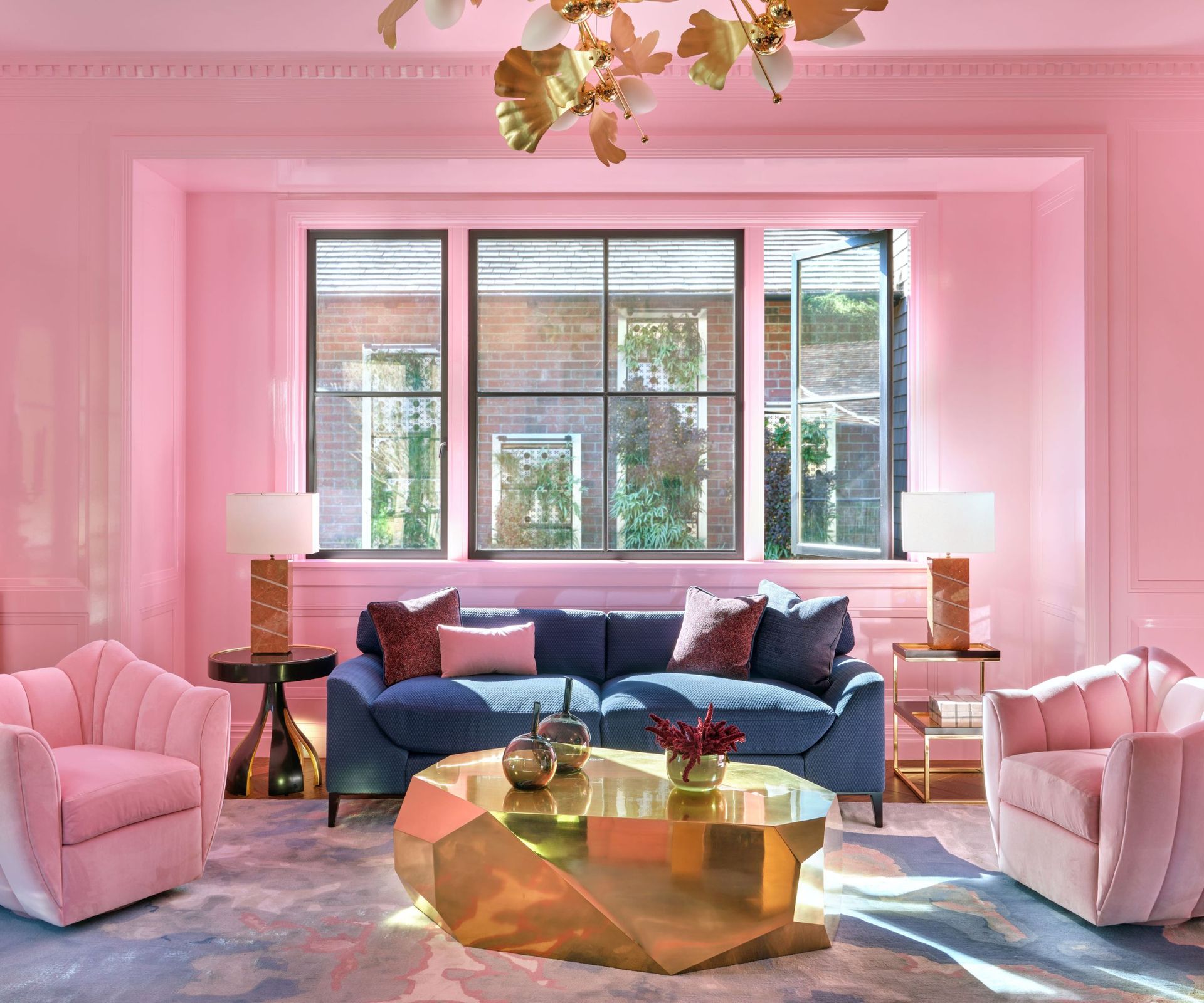 (Image credit: Trevor Tondro)
Let's start with that showstopping pink living room. 'It's cheerful, bright, and unexpected, and it's especially inviting when you mix it with blue,' says the designer, who included luxe velvet fabrics and gold accents in her living room ideas. 'It is important that all design elements are elevated and high-end, and make sure to include a sense of sparkle. When selecting furniture, it has to be strong pieces to stand up to the Barbie pink color, without overpowering it.'
To keep things tasteful the designer used a high-lacquer finish  'This is a very high-end way to apply the paint, so it doesn't look flat, and the walls look shiny like a really pretty jewel box,' explains the designer. The pink shade is Benjamin Moore's May Flowers 1324
Swivel chairs from Studio Van Den Akker offer a softer co