Marble is a beautiful natural stone that has been used for building and decorating for centuries, but is this luxurious material still on trend? We ask the experts in the know.
Of course, there is no denying the popularity of decorating with marble; from marble kitchens and marble bathrooms to flooring and stunning decorative accessories, marble can create a truly luxurious look in the home, filling a space with stunning natural character, color and texture. 
To help us explore whether marble is still as highly regarded as it once was in interior design trends, we've asked interior designers for their take on the classic stone (spoiler, pretty much everyone still loves it and probably always will). 
We ask the designers to discuss, is marble still on trend?
'I see marble as a truly timeless material that transcends the 'trend' label,' says interior designer, Kathy Kuo. 'Natural stone is always a great way to add a touch of organic glamor to your home, and marble is the chicest natural stone there is. From marble countertops to marble bathroom details and decorative objects crafted from marble, you'll find that this material is extremely versatile – and extremely durable.'
Whether you're thinking of incorporating marble into a new design scheme, or are simply interested to see what our designers have to say, we ask the experts to share their thoughts on whether marble is still on trend.
Kathy Kuo
Social Links Navigation
Interior Designer, CEO Kathy Kuo Home
Kathy Kuo is a celebrated interior designer and international guru within the home and lifestyle space. She has 20+ years of experience in the design industry.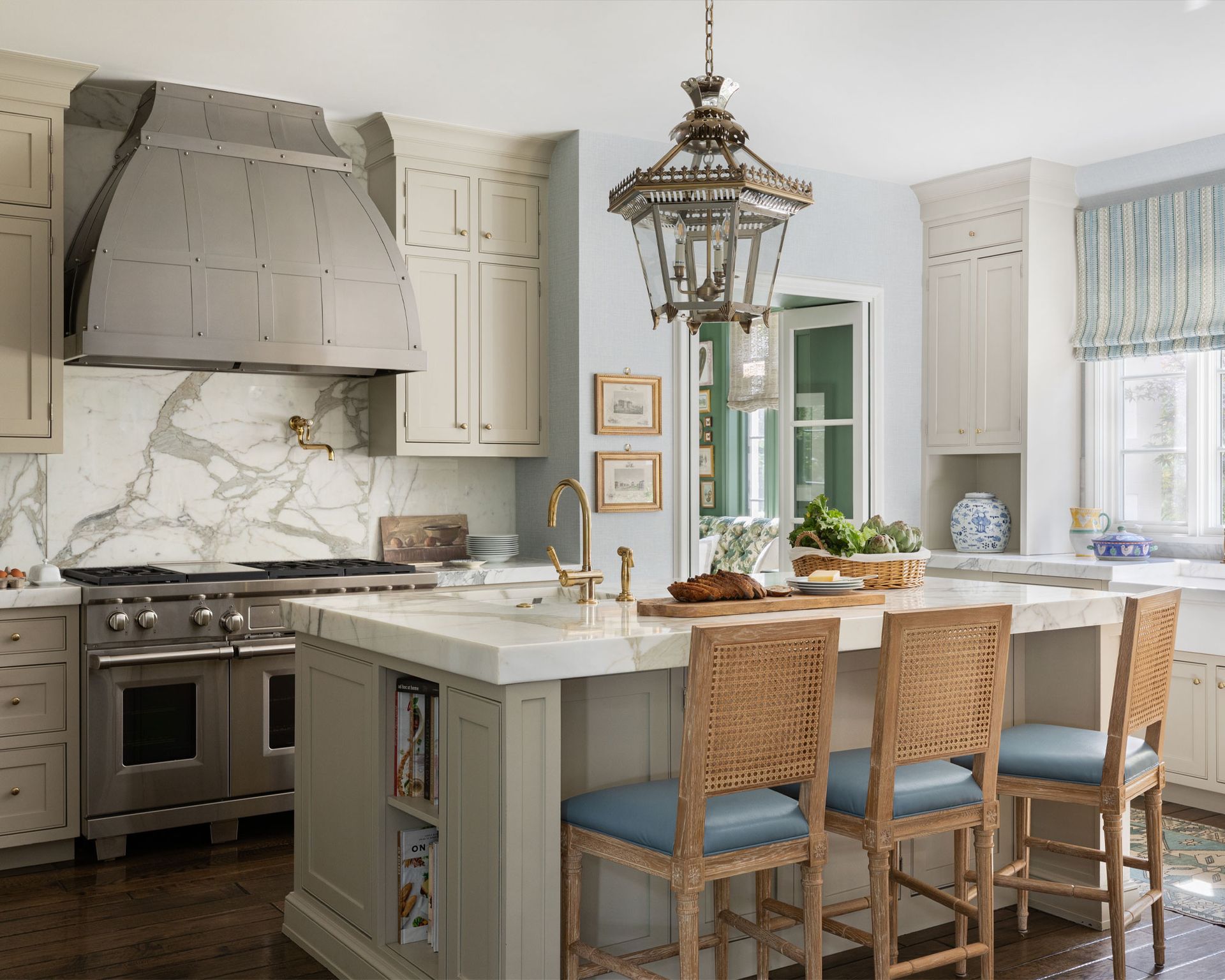 (Image credit: Alexandra Kaehler)
Marble is favored not only for its natural beauty, but for its strength and durability too, ideal for a busy space such as kitchen, but is marble still leading the way in luxury kitchen design?
'Marble is one of the most elegant and luxurious kitchen countertop options, but the drawbacks, along with the high cost, are that it is a soft, porous stone, making it prone to staining and chipping, especially in high-traffic kitchens. If you want the look of marble but with more practicality, I recommend quartz as it offers a natural stone aesthetic whilst being extremely durable, virtually non-porous, and stain and scratch resistant,' says interior designer, Naomi Astley Clarke.
Claudio Corniola, director at Laminam also adds, 'previously, worktops, kitchen backsplashes and furniture cla